DFT Dental camps
The preventive care of the teeth and gums is crucial to maintain the overall health and as a result quality. The rural communities miss out on the benefits of good oral health due to inadequate dental healthcare.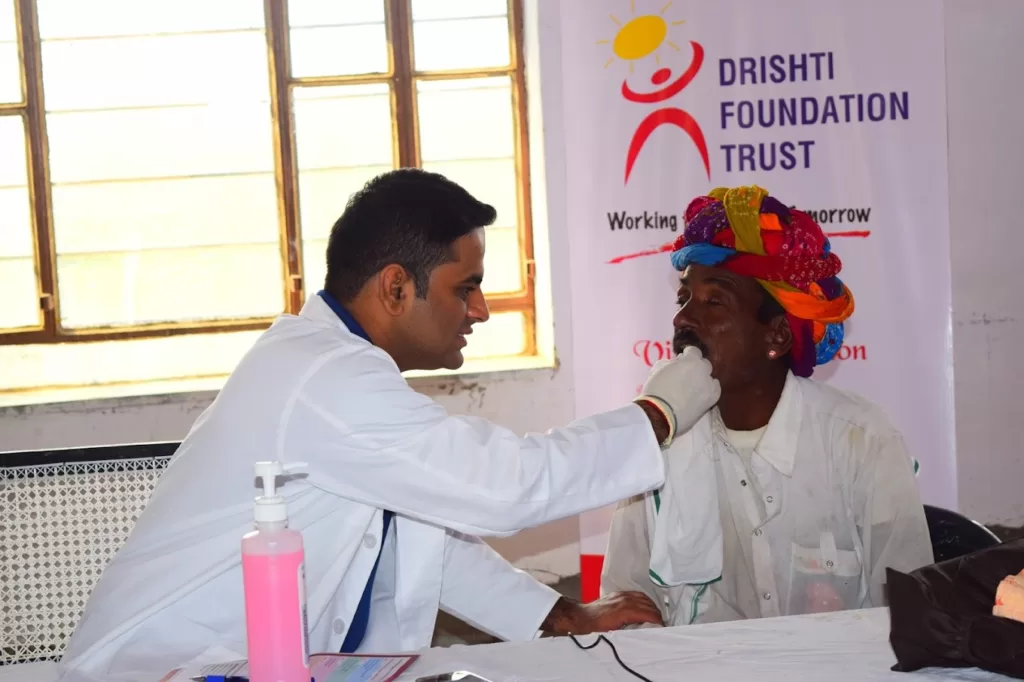 Many factors lead to dental health challenges in rural areas such as access to dental care, dental health awareness, tobacco use.
To alleviate the problems of the rural communities and create awareness about oral health, dental hygiene camps were organized in the village interiors in North India (2014 – 2017) where more than 10,000 people were given free medical checkups and consultations for over 3 years.
The team of doctors included renowned dentists such as Dr. Sumita Sagar.
Making people aware of the oral problems was a little step, but a major leap towards better dental health in rural communities.
Project -Kamakhya ( An Initiative on Mensuration Hygiene Awareness )
A woman's menstrual health is crucial to her well-being, and also to the well-being of her family and community. But too often — especially in the developing world — mindsets, customs and institutional biases prevent women from getting the menstrual health care they need to thrive. Menstrual hygiene continues to be amongst the most challenging development issues today.
A positive attitude towards menstruation and menstrual practices needs to be inculcated in the girl child at the onset of menarche. To ensure this, it is important to make menstrual hygiene a part of health education for the girl child.
The Drishti Foundation Trust has created Project Kamakhya – an initiative for enhancing adolescent girl's menstrual health and hygiene. The project aims to generate awareness amongst adolescent girls about menstrual health and hygiene via sensitisation programs in rural areas and urban slums.
The vision of the project is to empower girls with knowledge and awareness on menstrual hygiene to manage their menstruation in a hygienic way in privacy, safety and with dignity at home, at school and in the community.
This sensitisation program provides know-how on how to handle menstruation, improve girls' knowledge of personal hygiene and boost their confidence by answering their unanswered questions through interactive and engaging training methods. It also provides information to dispel myths and taboos surrounding this issue.
A total of more than 50,000 girls from rural communities, schools, and colleges, are envisioned to be sensitised on Menstrual Hygiene every year. The project aims to create a sustainable change in the menstrual hygiene practices. In the long run, it is hoped that better health status and quality of life would be achieved amongst girls through the sensitization programs.
DFT Project Self-esteem
Good hygiene and grooming are crucial not only for mental well-being but also for improving confidence and self-esteem.
On the occasion of mental health day, DFT had launched Project Self-esteem in which free grooming sessions are organized for the especially abled every few months, and the attendants are given self-care and grooming tips.
In the first phase of project self-esteem, around 50 differently-abled children were provided free grooming in association with VLCC. Their smiles and improved body language are a testament to the positive change that grooming has on us.
DFT Nature walk
"Just living is not enough. One must have sunshine, freedom, and a little flower." – Hans Christian Andersen
It has been scientifically proven that spending time around the natural world has positive effects on the overall well-being of a person.
Fast-paced life and changing lifestyles have disconnected us from nature and its life-enhancing benefits leading to anxiety, premature aging, and mental conditions.
DFT nature walks are organized every month at scenic locations to connect people with nature and with each other. It includes ice-breakers, team activities, motivational sessions, mental talks with the experts apart from nature tours.
Call us or WhatsApp us at 9873522666 if you wish to join our next nature walk session.
Donate Us : https://drishtifoundation.org/donate-us/