DFT Likhai Padhai
Introduction
In an age marked by rapid technological advancements, ensuring access to quality education for all remains a paramount concern. Drishti Foundation Trust worldwide have taken up the challenge of bridging the education gap, and one notable achievement in this regard is the installation of digital classrooms by Drishti Foundation Trust. These digital classrooms have revolutionized the way education is delivered and accessed, making learning more engaging, accessible, and inclusive. In this article, we will explore the remarkable achievements of an NGO that has committed itself to transforming education through the installation of digital classrooms.
Enhancing Learning Environments
One of the most significant achievements of installing digital classrooms by the NGO has been the transformation of traditional classrooms into vibrant and interactive learning environments. Traditional blackboards and chalk have been replaced by smart boards and projectors, enabling teachers to use multimedia resources, videos, and interactive presentations. This shift has made learning more engaging and appealing to students of all ages.
Access to Quality Educational Content
Through digital classrooms, students now have access to a vast repository of educational content that goes beyond textbooks. The Drishti Foundation Trust has partnered with educational content providers to ensure that students can access a diverse range of resources, from e-books and educational apps to interactive simulations and online courses. This access to quality educational content has levelled the playing field for students in underserved communities, giving them the same opportunities as their urban counterparts.
Empowering Teachers
Digital classrooms have not only benefitted students but have also empowered teachers. The NGO has provided extensive training to teachers on using digital tools effectively. Teachers can now customize their lessons, track students' progress, and adapt their teaching methods to individual learning needs. The interactive nature of digital classrooms has reinvigorated teaching, making it more dynamic and innovative.
Remote Learning Capabilities
The COVID-19 pandemic highlighted the importance of remote learning, and the NGO's digital classrooms proved invaluable during this challenging time. With the infrastructure in place, students could continue their education from home, ensuring continuity in learning. This achievement was particularly significant in areas with limited internet connectivity, as the Drishti Foundation Trust had also set up offline learning modules.
Increased Access and Inclusivity
Perhaps one of the most remarkable achievements of the digital classroom installation is its impact on inclusivity. Education is now accessible to students in remote and marginalized communities who previously had limited access to quality education. The NGO's efforts have reduced the urban-rural education gap and contributed to a more equitable distribution of educational resources.
Measurable Impact
The impact of the NGO's digital classroom installation is not merely anecdotal; it is backed by measurable outcomes. Improved attendance rates, enhanced test scores, and increased enthusiasm for learning are just some of the quantifiable results. Additionally, the NGO collects data on students' progress, allowing for continuous improvement and evidence-based decision-making.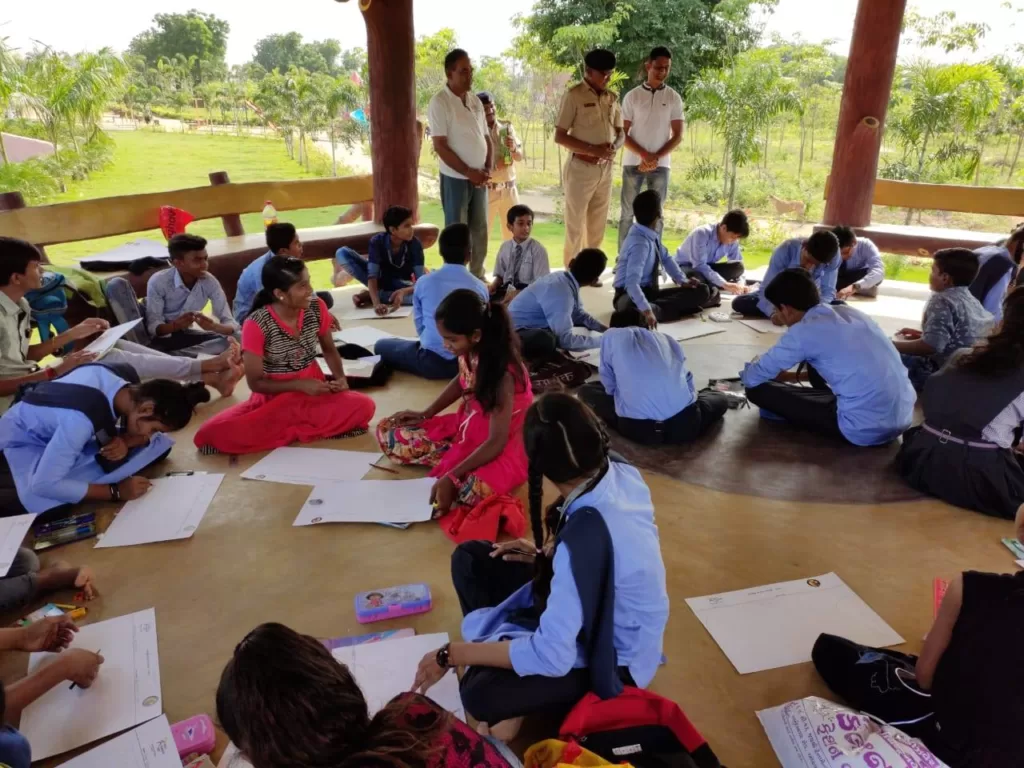 Movie screening & Motivational session to ease out the back-to-school anxiety of the students post Covid
Going back to school after a year post-Covid can be a stressful moment for many students because of the learning loss that happened due to the lack of access or improper access to the online classes and personal losses in many families during the Covid-19 pandemic. The insecurity and the uncertainty of the future have led to many dropouts during the pandemic, especially from the less privileged sections, and unrest in the rest about their future prospects, which is demoralizing and stressful.
On the occasion of International Literacy Day, 8th September, DFT had organized a motivational session which included an inspirational movie screening, an interactive counseling session followed by a brief introduction to the digital basics, and fun quizzes.
"The idea behind the session was to inspire the students to look ahead and to give them hope. The movie –'Nil Battey Sannata' is a message of hope. It narrates the value of dreams and education and how they can change your life irrespective of your social status if you are ready to put in the hard work and weather the storms that are sure to test your perseverance." – Dinesh Kumar Gautam (Founder, DFT).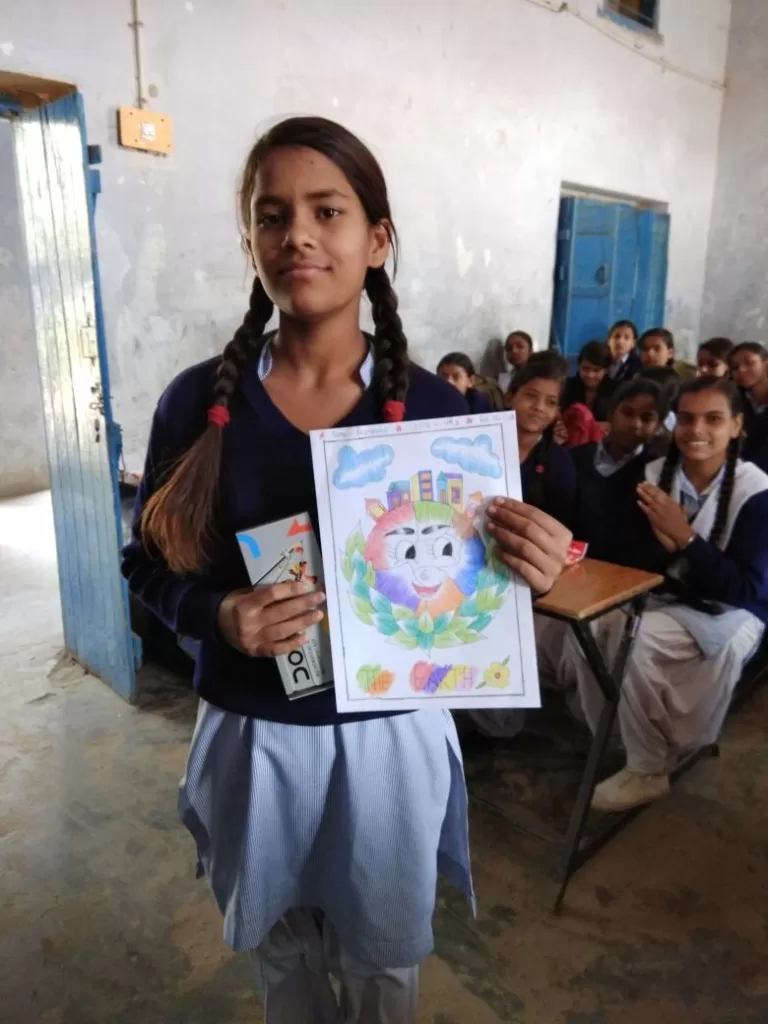 The interactive session helped the students to open up about their fears & concerns related to studies and their academic futures which were addressed by the teachers and educational counselors associated with DFT. It was followed by a brief introduction to computer basics and mobile usage for online classes and accessing learning resources.
"We have also received lots of interest from the students for the soon-to-be-opened 'DFT Knowledge Quarter' which is an open-for-all library that would offer free digital training sessions, free access to books, computers, free WiFi, study room, and a lot more," Said Mr. Gautam explaining his vision behind the DFT Knowledge Quarter.
Motivational session for the Covid orphans at the Adinath Nagar School, Ahmedabad
It requires tremendous mental strength and a strong sense of purpose to carry on your efforts towards your goals when giving up is the easiest option. In spite of losing his parents in the second wave of the pandemic, this 9-years old never gave up on his dreams and joined back his school.

To honour his sincere efforts and to inspire other students at the Adinath Nagar school a surprise gift was given to him post-movie screening by Drishti Foundation Trust
Personality development & motivational session for the students at K V Nagar Primary School, Ahmedabad – A full day session was been organized by DFT for the students at K V Nagar Primary School in which extempore, poem recitation and a motivational talk was organized. Boosting confidence for public speaking and developing oratorical skills of the children were the main objectives of the engagement activities to at K V Nagar Primary School.
River & aquatic conservation awareness at K V Nagar Primary School, Ahmedabad through rhymes
A brief session was organized by DFT for the children to explain how river pollution is affecting the aquatic life and to teach them the importance of the conservation of rivers and aquatic animals for human beings. 
Conclusion
The installation of digital classrooms by Drishti Foundation Trust has been a game-changer in the field of education. By creating interactive, technology-driven learning environments, the NGO has empowered both students and teachers. It has also significantly expanded access to quality education, making it more inclusive and equitable. The impact is tangible and measurable, with improved educational outcomes for countless students. As we move forward, initiatives like these remind us of the transformative power of technology and the positive change it can bring to education, ultimately shaping a brighter future for all.
Donate Us : https://drishtifoundation.org/donate-us/
Facebook: https://www.facebook.com/DrishtiFoundationTrust/
Instagram : https://www.instagram.com/drishtifoundation
Youtube : https://www.youtube.com/drishtifoundationtrust
Twitter : https://www.twitter.com/dftindia