DFT Likhai Padhai

A free mid-day school for the less advantaged children
There's no better teacher than adversity. The struggles of living under financial constraint since childhood and understanding the reality of life early on were the life's ways of preparing him for greatness. At a time when people are more focused on their own progress, he was busy figuring out ways to help the society progress and that's how New Delhi Education Society – a free middle school in rural Rajasthan came about in 1998. The school was established during his stint with a Hindi newspaper during the initial years of his career which got him to Alwar and Mewat districts of Rajasthan where he found that several children were not getting the education they deserved and that's how the idea of a school came to him.
Most of the infrastructure was set up with the help of donations. During the initial days, Dinesh put in his entire salary into purchasing a bus for the school, which he drove around himself to pick up kids living far away.
"I had similar experiences like the children I work for now, once in my childhood days. And that is what triggered the decision to start something for children from underprivileged backgrounds. It is easy to complain about the inefficiencies of the government for everything but citizens like us also need to chip in at an individual level," says Dinesh.
With about 187 children enrolled in the school, Dinesh juggled between New Delhi Education Society and his job as a journalist till 2003. During that time he hired teachers and volunteers to provide support. Ultimately, the school was recognized by the state government but unfortunately had to be closed down in 2003 when Dinesh shifted to Ahmedabad to fulfil family responsibilities.
In the year 2005, while working with a multinational in the field of marketing Dinesh Gautam with his volunteers used to teach the children after work every day. Later on he gave this movement a structure and established Drishti Foundation Trust, an NGO which was named after his daughter.
The resources are arranged by collaborating with different organizations that can help in some way. DFT also works in the areas of Environment and health apart from education and has plans to expand its area of operation across the nation.
Mobile Donation to Vineet
"Those 20 minutes between my mom coming back home and my dad stepping out for his night duty used to be the time when I would get a chance to complete my homework as there was just one mobile and 3 users with a different schedule."

Due to irregular access to the online classes, Vineet Harsadbhai Solanki, a 7th standard student of Divine International School, Ahmedabad, who has been a ranker, has constantly been slipping behind his peers during the pandemic.

"My mother who works as a house help and my father who is a watchman at a housing complex sometimes would take up odd jobs during the pandemic apart from their usual duties to keep the wheels moving, especially for my studies, but even that did not suffice at times, and I gave up on my full-time studies for months and kept in touch with the class only through assignment submissions."

Witnessing the optimistic outlook of Vineet towards life in spite of the hardships, DFT gifted him a mobile and 2 months internet pack to help him catch up on his studies.

We are proud to announce that Vineet is now an 8th standard student and is a class leader who dedicates most of his time to studies and also helps out others through online knowledge-sharing sessions.
DFT Knowledge Quarter
To provide access to books and technology DFT has opened Knowledge Quarter for the less advantaged children which will have the below mentioned Free facilities:
Books
Computers
Wi Fi
Study Room
4 days a week access
FREE Digital Training Sessions
Call or WhatsApp us at 9873522666 if you know someone who might need educational support or access to learning resources.
DFT Digital Training
Vineet Solanki, an attendee of the digital training program organized by DFT Knowledge Quarter is being given basic digital training by #DFT which includes the understanding of the digital space, MS office, how to find learning resources online, etc. here's what he has to say (Video)
Priyanka Harsadbhai Solanki is one of the regular visitors of the DFT Knowledge Quarter who is the first women attendee of the DFT Digital Training and is currently being given women-specific digital training by #DFT which includes making mobile payments, using apps, search engines using the smart phones, social media and the digital space. Hear her speak about her learning experience. (Video)
Kalpana Ben who works with DFT is the third attendee of the DFT Digital training session. She has always been intrigued by technology and therefore, she approached our team for the training.
She is currently being given women-specific digital training by #DFT which includes an understanding of the digital space, search engines, online payments using apps, and social media. (Video)
Creating a galaxy brighter than the sun – Solar Panel installation for digital learning in around 121 government schools PAN India in association with Pernod Recard India Foundation
DFT is on a mission to light up the lives across the country through clean energy. Several solar panels-powered batteries have been installed in 110 government schools PAN India based in Gwalior, Meerut, Nashik, Kolhapur, Saharanpur, Vishakhapatnam etc.
Knowledge sessions with Forest Department for School students
Drishti Foundation Trust organised multiple awareness sessions for the students on Wild Life in association with the Forest Department,Ahmedabad.We had organised drawing competitions to make them aware about the importance of wildlife.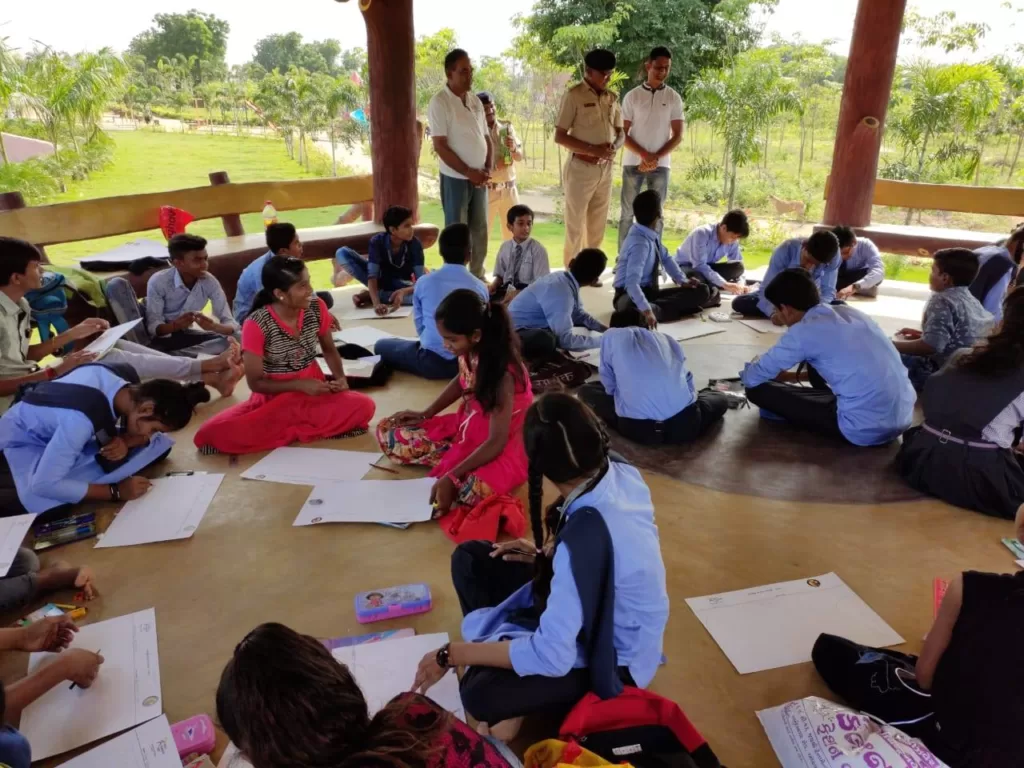 Movie screening & Motivational session to ease out the back-to-school anxiety of the students post Covid
Going back to school after a year post-Covid can be a stressful moment for many students because of the learning loss that happened due to the lack of access or improper access to the online classes and personal losses in many families during the Covid-19 pandemic. The insecurity and the uncertainty of the future have led to many dropouts during the pandemic, especially from the less privileged sections, and unrest in the rest about their future prospects, which is demoralizing and stressful.
On the occasion of International Literacy Day, 8th September, DFT had organized a motivational session which included an inspirational movie screening, an interactive counseling session followed by a brief introduction to the digital basics, and fun quizzes.
"The idea behind the session was to inspire the students to look ahead and to give them hope. The movie –'Nil Battey Sannata' is a message of hope. It narrates the value of dreams and education and how they can change your life irrespective of your social status if you are ready to put in the hard work and weather the storms that are sure to test your perseverance." – Dinesh Kumar Gautam (Founder, DFT).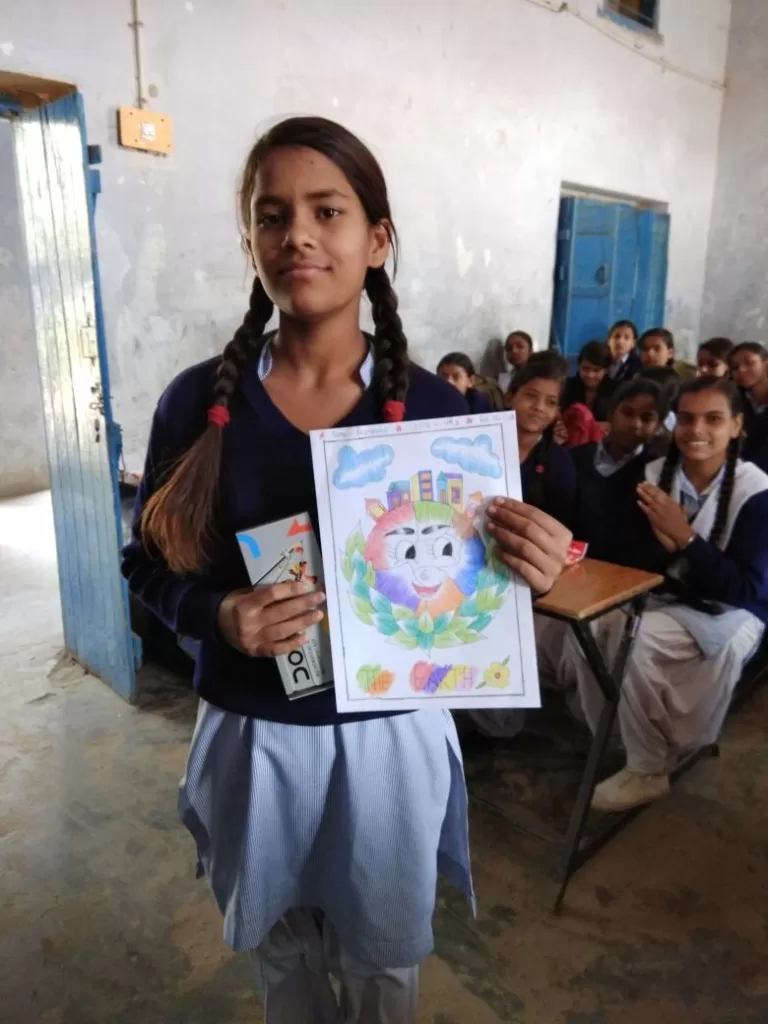 The interactive session helped the students to open up about their fears & concerns related to studies and their academic futures which were addressed by the teachers and educational counselors associated with DFT. It was followed by a brief introduction to computer basics and mobile usage for online classes and accessing learning resources.
"We have also received lots of interest from the students for the soon-to-be-opened 'DFT Knowledge Quarter' which is an open-for-all library that would offer free digital training sessions, free access to books, computers, free WiFi, study room, and a lot more," Said Mr. Gautam explaining his vision behind the DFT Knowledge Quarter.
Motivational session for the Covid orphans at the Adinath Nagar School, Ahmedabad
It requires tremendous mental strength and a strong sense of purpose to carry on your efforts towards your goals when giving up is the easiest option. In spite of losing his parents in the second wave of the pandemic, this 9-years old never gave up on his dreams and joined back his school.

To honour his sincere efforts and to inspire other students at the Adinath Nagar school a surprise gift was given to him post-movie screening by Drishti Foundation Trust
Personality development & motivational session for the students at K V Nagar Primary School, Ahmedabad – A full day session was been organized by DFT for the students at K V Nagar Primary School in which extempore, poem recitation and a motivational talk was organized. Boosting confidence for public speaking and developing oratorical skills of the children were the main objectives of the engagement activities to at K V Nagar Primary School.
River & aquatic conservation awareness at K V Nagar Primary School, Ahmedabad through rhymes
A brief session was organized by DFT for the children to explain how river pollution is affecting the aquatic life and to teach them the importance of the conservation of rivers and aquatic animals for human beings.
Donate Us : https://drishtifoundation.org/donate-us/
Facebook: https://www.facebook.com/DrishtiFoundationTrust/
Instagram : https://www.instagram.com/drishtifoundation
Youtube : https://www.youtube.com/drishtifoundationtrust
Twitter : https://www.twitter.com/dftindia